Midlothian's Green Businesses – PM Solutions
PM Solutions have made a great start on their sustainable journey and with the support from Business Gateway Midlothian, they have now signed up to the Midlothian Business Green Pledge continuing to take important steps to helping achieve Net Zero in Midlothian.
PM Solutions
Midlothian's PM Solutions have over 20 years' experience in direct mail and print media, creating successful direct mail campaigns. Using tried and tested methods including personalised software, PM Solutions get your message right in front of your target customer.
Why have PM Solutions signed the Midlothian Business Green Pledge?
When initially looking at making their business more environmentally friendly and supporting Scotland's Net Zero targets, PM Solutions found a lot of information but it wasn't all easy to understand. With so many initiatives already underway, it was important for them to understand the impact of their work and have support in place to progress their green ideas further.
The Midlothian Business Green Pledge outlines simple, achievable steps that businesses can take to achieve their goals and contribute to the fight against the climate emergency. The local green pledge offered Business Gateway Midlothian adviser support and introductions to partner organisations with expert knowledge and advice to help them on their journey.
How PM Solutions are supporting Net Zero targets
PM Solutions are proud to be part of the Midlothian Business Green Pledge and are actively seeking ways to operate in a more environmentally friendly way and help achieve Net Zero goals for Midlothian, and Scotland as a whole.
To do this, PM Solutions:
Operate from a 15,000 sq.ft Grade A building, completed in 2017, with air source heating installed and energy efficient lighting to ensure their property is low impact on the environment.
Are engaged with Zero Waste Scotland and Energy Savings Trust to work towards zero carbon status over the coming years and will be using a 100% Renewable Energy supplier by end 2022
Vet all paper suppliers and only use FSC sustainable products
Encourage their staff to work from home where possible, keeping cars off the road and encouraging car sharing and active travel if coming into the office
Are renewing their planning permission for two Wind Turbine's on site at PM Solutions, converting energy into power for the business.
Are ISO 14001 certified which was renewed in 2021. This helps them manage their environmental responsibilities and ensure their environmental performance including their waste and risk assessments are continually improving.
Have 4.5 acres of land on which they have planted over 250 trees with plans to increase this.
An area of real focus for PM Solutions is utilising the space they have on their land. In addition to the 250 (and counting!) trees, they are hoping to give back to their local community by providing a local primary school access to learn about habitats, the environment and human impact on our climate. Land will be given to them to grow their own fruit and vegetables, creating further wildlife habitats and use for educational purposes.
PM Solutions also plans to house half a dozen beehives on the site to help with pollination and also hope to create a company allotment for their staff.
PM Solutions' Green Pledge
Richard Proctor, Head of Sales and Environmental Champion at PM Solutions said 'With several environmental plans already in place, we were keen to sign the Midlothian Business Green Pledge and formalise the work we are doing while also gaining support to take other ideas forward. This local initiative was easy to understand, has clear targets, signposted us to the right support and keeps us accountable. We're delighted with the support we've received so far and know that it will help us to continue to make changes to our business that will benefit the planet.'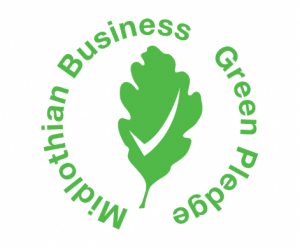 Sign the Midlothian Business Green Pledge
Whatever stage your business is at, it is essential that you have an environmental policy and continually plan to improve your environmental performance. The Midlothian Business Green Pledge offers Adviser support, advice and introductions to our partner organisations to connect you with the right people to make a difference.
Sign the Green Pledge today and commit to making your business greener and more environmentally friendly.